Hello friends.
I'm 100% trying to be better about keeping this up to date. Now that my revisions have gone back to my agent and I've started a new book (more on that later) this all seems like it might be possible. I'm probably setting myself up for failure, but hey….
So this month we went to Chicago! And let me tell you, I love this town. This is my third trip to Chicago but it feels like the first time I got to actually see and understand this city. The first time I was in college and I sold off all my cds to get gas and hotel money. We were only there a weekend and I never got off the Miserable …ahem, Magnificent Mile which is like being stuck in Herald Square forever. *shudders*
The second time we were traveling the country and it was another short trip with similar results. But this time I finally got it right.
It's a really beautiful city.
This was a very far walk.
Of course we made it up to Wrigley Field
and out to Andersonville to got to this incredible feminist bookstore, Women and Children First.
We at cheezborgers at the Billy Goat Tavern (three times, DON'T YOU JUDGE ME).
Yes you know them from this Saturday Night Live skit
Speaking of we were at the Billy Goat Tavern when Jason Van Dyke, the police officer who murdered Laquan MacDonald was found guilty. They had it up on the television and when the verdict was announced it was incredible. They read each "guilt" by bullet so he had to sit there and listen to all sixteen bullets. It was like a poem, it was so intense. I was so happy the people of Chicago got some justice.
When we first got there we hit up Millennium Park to see the Cloud Gate or as Chicagoians affectionately call it, The Bean.
This park is full of lots of cool things like fountains that spit on you.
And obviously we went to the Art Institute – home of NightHawks by Edward Hopper. It was the piece of art my husband was most looking forward to seeing. On the way he joked about it being lent out so naturally……it was.
We were standing in the ticket line and there was the sign saying it was in Shanghai for an exhibit. The poor boy just started laughing but trust me the whole thing felt VERY familiar.
Not that we didn't see great art:
And we went to INTUIT – The Center for Intuitive and Outsider Art and it was incredible.
This is Lee Goodie – she lived on the streets of Chicago and made these paintings
And this is Aldo Piacenza – he made to scale models of famous chapels. They're BIRDHOUSES!
But the center piece to INTUIT is Henry Darger. Henry Darger is probably one of the best known outsider artist. He lived here:
and in this space he created In the Realms of the Unreal –  approximately 15, 145 page work that was bound in 15 densely typed volumes, many of which contained hundreds of scroll-size paintings.
And the subject of the Realms of the Unreal is even better. From wikipedia:
The largest part of the book, The Story of the Vivian Girls, in What is Known as the Realms of the Unreal, of the Glandeco-Angelinian War Storm Caused by the Child Slave Rebellion, follows the adventures of the daughters of Robert Vivian, seven princesses of the Christiannation of Abbieannia who assist a daring rebellion against the child slavery imposed by John Manley and the Glandelinians. Children take up arms in their own defense and are often slain in battle or viciously tortured by the Glandelinian overlords. The elaborate mythology includes the setting of a large planet, around which Earth orbits as a moon (where most people are Christian and mostly Catholic), and a species called the "Blengigomeneans" (or Blengins for short), gigantic winged beings with curved horns who occasionally take human or part-human form, even disguising themselves as children. They are usually benevolent, but some Blengins are extremely suspicious of all humans, due to Glandelinian atrocities.
And the INTUIT museum recreated his living/artist space:
It's strange. You got to a place like INTUIT and you see these amazing works of art and then you go to the Art Institute and you see equally amazing works of art. It's strange, the gatekeepers of culture, how they decide who lives on the street making art and who is hung in the most hallowed of halls, decreed with genius. Is Lee Goodie's work any less affecting than deKooning? Is Darger's?
We also found the Biograph where Joe Dillinger was caught by the FBI
and murdered in the alleyway behind
We also went to Oz Park, a tribute to Frank L. Baum and his creations. The city put up these amazing statues. They were adorable. Look how cute the lion is!
I scored some new buttons
and a tee! (yes I'll be wearing it to the premiere of Bohemian Rhapsody do you even have to ask me that?)
Also our walk to our hotel most nights lead us past this horrible building so naturally I paid my respects
#RESIST
We stopped at the Green Mill, an old Al Capone haunt, for some drinks and stumbled into a free comedy show which was lovely.
Not sure if you can see it, but seated in the last booth to the right are two dope queens (yes I said it) who together form the rap group Glitter Moneyyy who were amazing. They're streaming on all the things so please, do yourself a favor and download.
Oh! And before I forget yes, we found the Haymarket Riot memorial (if you don't know about the Haymarket Riot you need to do some reading about this damn country).
And because I couldn't resist, we found Championship Vinyl…because JOHN CUSAK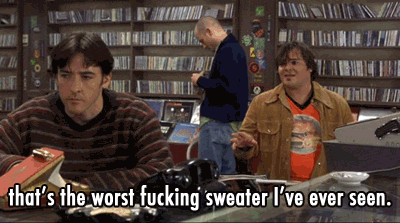 It was a really fantastic trip even though our flight home was cancelled and we were stuck in O'Hare for far too many hours and then entire flight home was a turbulent nightmare that had me swearing I was never going to fly again and we landed very late at LaGuardia of all places.
So since then, I've been back to writing. Palimpsest, as I said before, was re-written for middle grade and my agent has that now. I still need to work on the all girl pickpocket heist book – mainly on world-building – but I set that aside to write a new middle grade ghost book with a scary Preacher Man. Must be all the Nick Cave I have been listening to.
So yeah, that's where we're at. I'm making things. MAKING ALL THE THINGS!
And in even better news, today is Halloween. Happy Allyween, my witches.
Peace, love and starbursts,
Ally