"I used to hate playing Seattle shows." – Chris Cornell
This was the first thing I saw as the captain told us we were beginning our descent to SeaTac International Airport.
It had been a harrowing flight. Long. Hot (especially in that lymphodema sleeve). And full of turbulence. I hate turbulence on any flight but each bump on this plane called back the man in line behind me at the Delta counter in JFK, just hours before, that collapsed and had a massive seizure. There's really no way for me to properly talk about the effect this had on me or the reactions of people nearby or the experience for this man so I'm just going to leave it at that.
When we finally landed in Seattle and existed the airport, there was Mt. Rainer, and the moon, just cutting up the sky together. During our duration, it never looked nearly as clear or as majestic. I grew up in Hudson Valley. I thought we had mountains. We did not have mountains. Not like this.
It was late and as New Yorkers felt even later by the time we were able to grab some noodles and collapse into bed.
We had breakfast the next morning at the Five Points Cafe
Originally opened in 1929 it is the oldest bar in Belltown and the longest running family owned eatery in Seattle. It also serves a plate of hash browns bigger than my head. It was fantastic. (Except on the second visit at the end of the trip when my waiter who is clearly a MONSTER served me English Breakfast when I clearly asked for Earl Grey because as we all know, English Breakfast tastes like it was run through my grandmothers socks. I will never forgive nor forget this monster.)
One of the most touristy but still genuinely awesome places in Seattle is Pike's Market.
If you're wondering why this sounds familiar it's because this is where they throw the fish around. You've seen the videos. Yes, I watched them throw the fish. I don't have any photos because there were a million and people and it was hard to catch (Ha!) but also because ew, fish.
Ew.
They also sell these huge bouquets of flowers crazy cheap. I'm talking $10 cheap. If I lived there I would Mrs. Dalloway that shit every single day. I mean look at these:
Pike Market was sneakily much bigger than I expected. There are LEVELS within LEVELS. They have a magic shop in this place. I'm not kidding. I haven't seen trick gum for sale anywhere in decades.
Behind Pike Market is the gum wall. But Ally, you ask, what's a gum wall?
THIS IS A GUM WALL:
and to Gum Wall's defense it should actually be called a Gum Alleyway because it just keeps on going
Then, being that we were in Seattle we did exactly what you think we'd do. We went to find the apartment building from Singles and Kurt Cobain's house.
Don't judge me!
The building from Singles is located in a super adorable area called Capital Hill. While adorable this is a misnomer. It should be called "Capital Mountain" or "Capital You Need A Tow Rope To Get Up This Bitch" or maybe "Capital You're Dead Now"
Because this was seriously steep shit. I'm talking 18% grade steep. Some of them just turn INTO STEPS. Like, screw your car, it's mountain climbing time!
For instance let's look at this image I found online. This is Denny Way which we talked. Do you see the parts where it levels off and then it's all mountain again? It's like a giants staircase!
I walked UP that. And it was really hot too. Figures I wind up in Seattle when they're in the 90's.
Anyway, we found the Singles apartment. Being a 90's girl this movie was on a constant rotation with Reality Bites. I could probably act it out.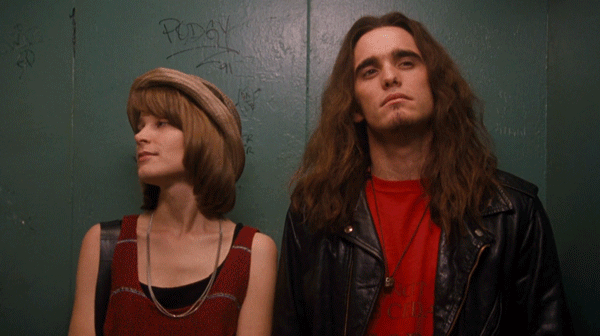 The apartments are located at 1820 E. Thomas Street and yes (minus the fountain which they added) it looks exactly the same.
Then we headed back down to Lake Washington to find where Cobain lived…and well, died. It felt strange. I'm not going to lie. I've found lots of artists homes and graves and what not over my traveling years but I don't think I've ever been to a place that was so tragic and so important in my own life.
The walk out there is gorgeous. The lake is gorgeous. To get to Kurt's road you go down little winding wooden steps.
You wouldn't even know you were only a few miles from where Pearl Jam used to rehearse back in Belltown
And I couldn't help but wonder as we crested the hill that was Viretta Park that is right along the property if maybe that was part of the problem. All I know is that the Denny-Blaine neighborhood looked alot different than Belltown or Capital Hill.
In Viretta Park is a makeshift memorial – a bench that has been graffittied. When we were there someone had left flowers.
From there you can see just the top of the house. It was sad and solemn and I felt a bit like maybe I shouldn't have come.
To offset that feeling, we headed up to Fremont (via bus cause you can't walk and also because at this point I COULDN'T walk. Damn hills. I'm so old).
Fremont is a very cool neighborhood full of record stores and cool restaurants but more so it's got this:
This is the Fremont Troll and in case you couldn't tell, he lives under the bridge. He's big.
Like climb on him big
(Dear god, we have sunburns in September in Seattle because of global warming.)
Down the road is a giant statue of Lenin with a red hand. Interpret that as you will
But as I was saying we came over to Fremont for something else too. Something Kurt.
This is Reciprocal Recording Studios. 
This little tiny shack has quite a history. A band called Ted Ed Fred wanted to record here because Soundgarden recorded Screaming Life. Ted Ed Fred would soon change their name to Nirvana. In this little space they recorded their first demo on January 23, 1988. They had no drummer at the time, just Cobain and Novoselic so they borrowed the drummer from the Melvins. Jack Endino recorded and mixed ten songs. Two would go on to be on Bleach. Endino kept a copy which he brought to SubPop which landed Nirvana their first record deal.
I stood in front of the door thinking how excited they must have been when it was all starting out. I tried to make that memory burn brighter than that bench or that dusty park or that peaked roof of that mansion.
Just down the road from Fremont is the Gas Works Park
It's really cool with an incredible view:
And we stopped into Linda's a couple of times and had some pints of cider. This was the last place Kurt was seen alive.
And yes of COURSE we did the Space Needle. Which I should get a few snaps for because this girl is afraid of heights. You should have seen me walking across the George Washington Bridge one time. I nearly made my peace with having to live in Jersey forever.
But I was cool about it.
My hands down favorite thing we did in Seattle was easily the Museum of Pop Culture
This place was incredible. First off every exhibit was cool. Every. Single. One.
There was a fantasy one that had…..
And then there was the Bowie by Mick Rock exhibit
Mick was Bowies photographer from 1972-1973 and he captured some of the most iconic images from the Ziggy Stardust years. He told his manager that Mick seems him as he sees himself.
Mick also took these:
Hang on cause we're JUST getting started with this museum.
Then they had the Jim Henson Experience. I had recently been to the Museum of Moving Image and seen their now permanent Henson exhibit which I loved but I was delighted to learn that many of my favorites were currently at MoPOP.
They even let you make a little video of you working as a puppeteer. I forgot to make my dude turn to the other camera so that's why there are blank spaces! All the same, if this librarianship thing doesn't work out I think I might have some options.
<p><a href="
https://vimeo.com/235594692″>seattle
068</a> from <a href="
https://vimeo.com/user50279965″>ally
malinenko</a> on <a href="
https://vimeo.com">Vimeo</a&gt
;.</p>
Okay I just re-watched that and it was pretty terrible. I take it back. I have no future in puppeteer.
And some from his movies too!
And Jareth's outfit and Sarah's dress from the ballroom scene in Labyrinth
Then, because we're still not done with MoPOP they had a Star Trek exhibit!
and a science fiction one, which according to the website had Doctor Who props. So I go in figuring they'll be small stuff, like maybe K9 but no. There was this:
And this:
Yes they had an actual Dalek and I just about lost my mind.
They also had Mork's outfit, a jawa, the ghostbuster's pack and hoverboards from Back to the Future!
We also went down to the International District which is home to the Uwajimaya Market which served the best Udon chicken soup of my life. I burned every layer off my tongue and it was worth it. The whole area is really pretty.
There was also a lot of information about Japanese Seattle residents and the internment camps in 1942. 127,00 people were imprisoned, more than half of whom were American born citizens.
And just like that the week was up and we were heading home, home, home.
Thanks for a lovely time, Seattle. I'm sure I'll be back.
Peace, Love and Starbursts,
Ally