"Hope is like the sun. If you only believe in it when you can see it, you'll never make it through the night."

— Leia Organa
The day before my last cancer treatment I went to see Star Wars: The Last Jedi. I adored the movie – found it to be the most feminist Star Wars that has ever existed and while I love Rey and Rose, it was Leia that stuck with me. Partially because we lost Carrie Fisher, yes, but more so because it was Leia that I had as a little girl to look up to. Leia who never once faltered in her belief in goodness.
In her belief in hope.
That night I had a nightmare that I missed my appointment and had to walk from my hometown about an hour north of NYC to Mt. Sinai Downtown. Needless to say I woke up feeling pretty anxious.
I know that seems silly. It's been three and a half years since diagnosis. Three and a half years of active treatment. Three and a half years of injections and constantly hauling myself onto the scales to ask am I good enough? Am I doing enough? Am i trying hard enough? Am I somehow going to be free of this burden?
Who wouldn't want it to be over?
But it being over meant I wasn't seeing my doctor every month to look at my charts and tell me I'm okay. No, obviously he couldn't tell me if I was popping off another tumor somewhere but he could tell me what my estrogen levels looked like and that was important. It was reassuring.
It felt like a safety net.
And now it was over.
When I was at my appointment I double checked with my doctor. I asked him, "You sure it's okay to stop now?" and he told me the same thing he's been telling me the whole time: There's no scientific evidence that continuing with the ovarian suppressant beyond three years yields a better outcome.
I nodded. Okay. I believe in science.
I left him and went down to the treatment area for my last injection. Again I've been coming here for three years so it's a bit of a Norm situation when I walk in the room: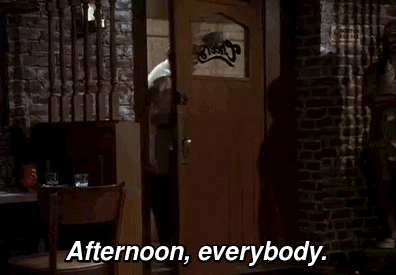 That's what happens when you have treatment for three years and every time you go in you're the youngest one in the room.
My nurse, Avada gave me my last injection. I was lying on the cot and she took one look at me said "What's wrong with you?"
"It's my last injection," I said. "I'm done."
She was so happy. Gave me a big hug. When we were finished I hugged my other nurses and NPs, especially Camry whose been there from Day 1 when I walked in that office so afraid my hands were shaking. They all told me to come visit when I get my check up in 3 months. I thanked them for taking such good care of me.
Camry said, "That's our job."
Nurses are amazing people. One day you'll need them, and they will be there. No matter what.
I walked out and cued up Lady Stardust by David Bowie.
And I stepped outside into a chilly winter morning and I felt……alive.
Free.
Done.
Wonderful.
I felt like I was floating.
I don't know what's going to happen in the future. I'll still have scans and MRIs for years to come but in a very real way this chapter is closed. I feel like the board has been reset. In a way, I can join the rest of you who never know what'll happen. Who don't wonder and worry every day. Who pass through their life in the moment.
Those who just live.
That night I went out with some very dear old friends to celebrate. It was a truly wonderful time full of much laughter and tears and wine. At one point we tried to guess our waitress's name. I guessed Danielle.
When we asked her she told us her name was Vera.
She was wonderful and dutiful and because we were making such a ruckus at the end of the evening she asked, with a wide smile, if it was someone's birthday. Clearly we were celebrating.
We all sort of stopped and I looked at her and I said, "No Vera. It was just a really good day."
It was just a really good day.
I woke up this morning feeling fantastic. Truly completely fan-fucking-tastic.
As this terrible year winds down, I hope all of you feel as fan-fucking-tastic as this ex-cancer patient does. I hope you have hope that gets you through the long night. I hope you have joy and wonder and beautiful friends to share it with.
I hope you all live in the moment.
No matter what always remember, it's a magical world. Here's to the New Year.
Let's go exploring.
Peace, Love and Starbursts,
Ally